Posted by Kathy on December 7th, 2013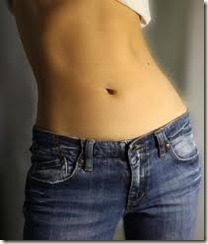 That first ten pounds.
I recently began a mission, a serious one this time, to lose 25% of my current weight and I'm on track to do it by spring.
How am I doing it? Simple. Somewhere between 1,200-1,400 calories of "clean" food a day, cardio 30 minutes daily and walking 10 miles a week.
I've lost 10 lbs so far in five weeks. Slow and steady, good momentum, highly motivated, feeling happy. I'll get there.
Today was a very good day, since I was able to drop one size in my jeans. Any woman will tell you this is an exciting milestone moment. Like finding a bathing suit that doesn't make you look like a sausage squeezed into its casing.
I jumped for joy, showered and headed out to do a bit of Christmas shopping.
At my first stop in my "new" jeans, everyone at the store held doors for me, offered me hugs and told me to have a good day.
Boy, this feels really wonderful!
At the next store, strangers stopped to tell me how fierce I looked in my jeans and asked how they too could look this fabulous.
I didn't have time to explain, but thanked them anyway and darted to the checkout counter.
The cashier brushed aside customers that were ahead of me in line and said "I'm sorry, but you'll have to let this lady with the smaller jeans ahead of you because she's really feeling it today and it would just be better if you let Her Specialness through."
And so they all stepped out of line and motioned me forward. They applauded and smiled and a couple people high fived me.
Then the cashier told me to just skip paying for my items – You should have all this for free, because you really look good in those jeans. I wish I could look so good in mine.
I thanked her and left to go to the last store, strutting down the sidewalk to the cheers of onlookers.
Great jeans, lady!
Way to rock the look, woman!
I didn't know they made jeans that small!
When I got to the store, a band was waiting for me and they played a fine rendition of I'm Too Sexy and then they presented me with a congratulatory cake with candles on it that spelled out YOU ROCK! But I declined because cake is not how you get into these jeans, just sayin'.
I bought my last gifts and skipped out of the store to find a limousine waiting for me to take me home because people who can fit into smaller sized jeans shouldn't have to be bothered with driving.
So you see, fitting into smaller jeans has its benefits. I'm just not telling you which of these benefits, if any, is true.
Well, the ten pounds is true.