Fun
February 13th, 2008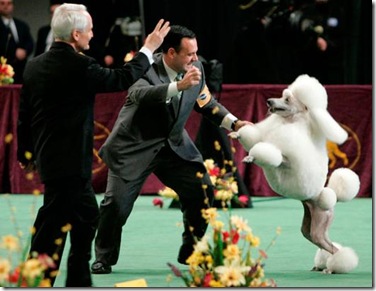 Photo: Seth Wenig, Associated Press
Top prizes were handed out on Tuesday at the Westminster Kennel Club Dog Show in New York City's Madison Square Garden. I caught up with the winner in the non-sporting group, Remy, a haughty, ridiculously-shaven standard poodle who made time in her busy schedule to answer a few questions.
Kathy: So, Remy, how does it feel to win the top prize in the non-sporting group?
Remy: It's a total crock. I mean, look at me. I should have won Best in Show. You know who they gave it to? Snoopy. A beagle hasn't won Best in Show in like a hundred years. But a plain Jane, floppy-eared beagle? Come on! And they gave her a standing ovation. I just about crapped right there on the floor.
Kathy: So you didn't win Best in Show, but you won best in your category. That's an achievement!
Remy: Sorry, no. Not the same. I was robbed. I'm the only breed who gets shaved like this. Beagles don't. They're just their beagly selves. They get to lay down wherever they want, whenever they want.
Kathy: What do you mean?
Remy: Are you kidding? Look at my coat. You think you can just lay down on the floor with this thing? I can't get comfortable on any side. It's so thick, I'm constantly shifting positions. I can't get a good night's sleep. The only part that is comfortable is my ass, but even that's a problem. I'm freezing down there!
Kathy: I think your hair looks lovely.
Remy: Pffff! Look. Here's the thing. I didn't ask for this hair. When I went to the salon, I asked the stylist for something cute and easy to manage. But all she heard was the cute part and started shaving away. What she did to my butt was criminal. It all went downhill from there.
I let her shave my face, thinking it would offset my naked butt, but then she proceeded to give me cotton ball feet and a helmet head to match. And, like I said, being hairless means you freeze. So I asked her to keep some on my torso so I wouldn't get hypothermia, and that's why I'm all over the map with this look. I can't prove it, but I know my owner set me up.
Kathy: Didn't you know what happens to poodles when they're entered into the Westminster Show?
Remy: Honestly, I didn't. My owner doesn't have cable, so I wasn't aware of the show until recently. My friends and me…. we can't read and don't have access to the Internet. Plus, we only see non-shaved poodles in our neighborhood. There was no reason to think this could happen. I was completely blind-sided.
Believe it or not, when my owner started entering me into some local shows, I wasn't all poofed out like this. But then I started winning. You know our society. When something is good enough, we can't just let it be. We have to supersize it; make it bigger, better, poofier! I should have seen it coming.
Kathy: So when you found out everyone would see you this way, what did you think?
Remy: Dude, I saw perks. In this business, it's all about the perks. I thought if I had to look like this, I might as well go all out for the prize. Word on the street is most dogs lead a life of luxury after winning at Westminster. I practiced my strut for weeks. I learned not to flinch when they grabbed me in weird places. I knew I could ace this thing.
We all sell out for something and this is my thing. I'm looking at diamond-encrusted collars, 600 thread count sheets on my bed and a lifetime supply of Beggin' Strips. I've heard they're very good. So, yeah, I hated how I looked, but it was worth it. Besides, I can deal with the hair thing later. Hair grows back. But I'm not going back to that Edward Scissorhands stylist. EVER.
Kathy: Now that you've won best in your category, do you think you'll be doing the talk show circuit?
Remy: Funny you asked. Letterman called and they want me to appear in the Stupid Pet Tricks segment of the show, but I balked. Since I won my category, I expected better. A little respect, you know? What we agreed upon was no pet tricks, but I get to sit on the couch next to him and show off my legs. That's really all you can see of me anymore and I consider them my best feature. Got it, flaunt it, right? I have to schedule a wax soon, workout a little and cut back on my treats. The camera  puts on ten pounds.
Kathy: What's on your plate for the coming year?
Remy: Well, first, I'm getting this huge puffball removed from my tail, since it gets in the way a lot. I'm not allowed to get excited about anything because then the tail wags and the ball knocks everything off tables. I'm also thinking of changing my hair color. White is SO hard to keep white. I dream of running out and diving into a big mud pile sometimes, you know? I think I deserve it now, don't you?
Kathy: Yes. Yes, I do.
Thank you, Remy, for making time for us. Congratulations on your top prize and here's hoping you get that non-bulbous look you've been craving!
Stumble it!
37 Responses to "My Interview with Remy"