cats, Stuff I don't hate
April 2nd, 2011
I'm so awesome, I can't stand it.
Today I saw a home improvement show where the home owner changed a white dishwasher into a black one (without paint) to match the rest of the appliances in her kitchen. I never knew that was possible.
I set out to do the same, since we have a black stove, microwave, refrigerator, coffee maker and toaster.
Here's the before: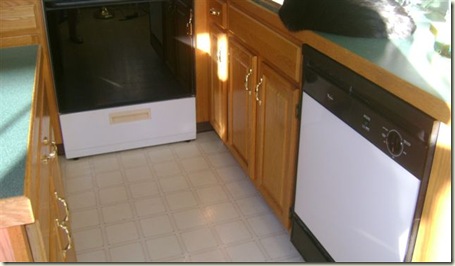 Here's how I did it:
Note: You may want to disconnect power first. I did not, but I was also careful not to touch any wires (You won't have to for the procedure.)
1. Remove any screws that secure the access panel below the dishwasher door.
2. Release the access panel and remove the retainer strip (if you have one) that holds the door panel on.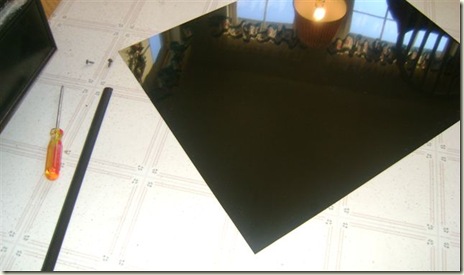 3. Slip out the flexible white panel and peek behind it to see if the reverse side is black.
4. Mine was (!!!), so I pulled out the panel (it'll bow), flip it over and slide it up back in place. Smooth out any puckers.
5. Slide the retainer strip back on to secure the panel.
6. Put the screws back in the access panel. This was the only hiccup I had. One of the screw holes was located in a tight space above and behind the access panel.
We don't have one of those magnetic screwdrivers that holds screws in place until you get it in the hole.
What did I use to hold the screw on the end of the screwdriver?
Chewed gum.
Again. Awesome. Me.
Now not only does our dishwasher match our appliances, but our cat Shadow thinks the "new" dishwasher goes so much better with her fur.
Wouldn't you agree?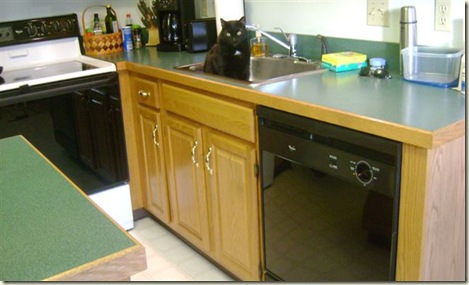 Stumble it!
42 Responses to "How to Change the Color of a Whirlpool Dishwasher"