Bizarre
June 29th, 2011
Major renovations are taking place in my building at work. Workmen padded the main elevators that they use for shuffling large and dirty materials all around.
Today I spotted a powdery smudge on the cardboard padding that looked like someone could have painted it, were it not just plain old dirt.
I know it's faint, but I think you can still make it out.
Do you see what I see?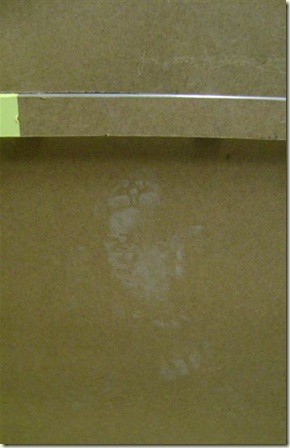 Yes, people wanted to know what I was doing taking pictures in the elevator.
Yes, they all think there's something wrong with me.
But that's OK, because you all know I'm perfectly normal. Right? Right?
Stumble it!
59 Responses to "Do You See What I See?"