Bizarre, Fun, work
January 16th, 2012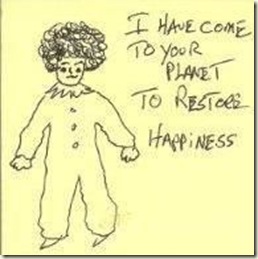 Many of you know that this Friday, January 20th, is Clown Day.
The day I agreed I would go to work dressed in full clown gear after you donated so much to my food bank fundraiser.
Let me tell you, it's hard being a clown. But it's also some of the most fun I've had in my life.
In the past weeks, I went shopping for just the right clown suit, makeup, a wig the size of a basketball, white gloves, a dozen balloons and a tote bag to keep all my girly clown things secured.
It took me four attempts at a face to land on one I'm happy with. YouTube videos helped, and so did pictures on the Internet and makeup packaging. I started out with a dreadful Joan Crawford face, but wound up with much more cheerful one in the end.
I took my clown self for an "in public" test drive yesterday, visiting my mother first. I had to call and warn her that she would not recognize my fully-painted face and to please not attack me with a baseball bat.
I drove around town before and after and waved at anyone who would look at me. If you have a bucket list, put clowning on it! It's a laugh a minute!
All but one person waved back or smiled.
That one person who didn't?
He flipped me the bird at an intersection.
I think he needed a hug. If you can't smile back at a clown, you're dead inside. That's all I have to say about that.
So that you can all follow along with my clownal shenanigans, I've set up a Facebook page that you can "Like." I'll post pictures and updates as often as possible.
I'll also blog about it after, with plenty of photos and video.
You are as much a part of this as anyone I run into that day. I hope you enjoy following along with me for the ride.
Thank you again for making the food bank fundraiser a huge success!
Stumble it!
40 Responses to "January 20 is Clown Day"