Stupid things I do
January 2nd, 2013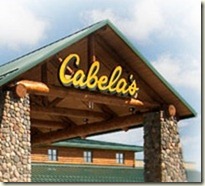 So I mentioned to my husband Dave that I entered a sweepstakes drawing for a $500 gift certificate for Cabela's.
I was all excited because wouldn't it be nice to have a huge gift card for delicious dinners at an Italian restaurant? Yeah, it would.
Except.
Dave: Where did you say you entered?
Me: Cabela's.
Dave: That's not a restaurant.
Me: Yes it is. It's Italian.
Dave: No it's not. You buy guns and ammo there. It's for sportsmen. You know, tackle boxes and camping equipment.
Me: Oh. I guess I thought it was Carrabba's.
Dave: Ya think?
So, if I win this thing, anyone need a kayak? Cuz apparently I'm not getting any food there.
Stumble it!
35 Responses to "So You're Saying I Can't Get Food With That Tackle Box?"