Stuff I hate
March 20th, 2013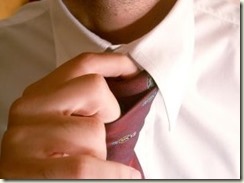 In an unreliable and totally made up survey, when a group of 100 women were asked to name the most uncomfortable piece of clothing or accessory that society expects them to wear, 79% of them said high-heeled shoes.
Most of my imaginary study group were wearing said heels and half of them slipped them off during questioning because their feet were blown up the size of bread loaves and the group got really unruly when danish they were promised for their time never showed up.
Anyway, I've been thinkin' about what men would say is the one thing society expects them to wear that they wish didn't have to.
That thing has got to be the necktie.
As for me, I hate, hate, hate anything around my neck. I will allow a winter scarf when it's cold, but none of my shirts or blouses have necks on them. I need to breathe, people.
A turtleneck? Kill me, why don't you.
So men. Here's where you get to bitch and moan. Exactly how much do you hate wearing neckties?
It's gotta be some kind of hell, always worrying it'll fall in your food or get caught in something, not to mention choking you all day long.
Do you pick out your own ties? Do you give any kind of crap about what tie goes well with what suit?
Is the first thing you do when you leave the office undo that bastard?
I don't feel sorry for men very much, but ties? You win.
However, I will say that women have you beat on the hosiery front. We will always have you beat on constricting sausage-making legwear. That and the aforementioned spikey, toe malformation-making footwear.
I want my old feet back. Just sayin'.
Stumble it!
24 Responses to "Men, How Much Do You Hate Wearing Neckties?"