Stupid things I do
May 22nd, 2016
You have a junk drawer, right? Of course you do!
But do you have a mini junk drawer? A drawer so small that for all intents and purposes is really just decorative. It can't even fit cutlery. It's a dumb drawer.
We have one in the kitchen. It's where my husband Dave and I years ago decided "This is where we shall put all our important receipts and crap. It will protect only crap of the most critical kind. We will never lose anything important if we put it in this ridiculously tiny little drawer."
And so we did.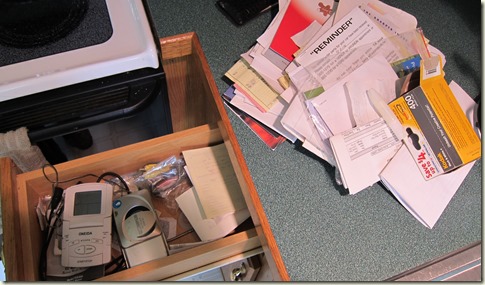 Today I cleaned it out because it could finally take no more when I tried putting in a receipt for my cat Lucky's medication. It cannot handle the addition of a 0.05mm-thick piece of paper.
As I extricated the pile of stuff, the things I realized we were saving got more and more stupid.
Receipts for any meaningful work we had done on the two cars we don't even own anymore
Receipt for a PC our family bought Dad in 2007
Receipts for carpet cleaning, purchase of a storm door and new mattress and work on our garage door and microwave
Blood work results for my husband
Meals on Wheels donation receipt
Two Sharper Image mini catalogs
Black and white 35mm film (do kids these days even know what that is?) 
Said 35mm camera
A bird feeder warranty (because, you know, they go bad)
Zinnia "Guaranteed to Grow" flower seeds (2 packs)
My college transcripts (so that's where they were!)
A thank you letter from 2002 for work I did on a client's PC that crashed (what?)
Instruction manual for a Motorola pager. A pager!
Approximately 80,000 screws, nails and cables for unknown things
If this is what I fit into mini junk drawer, you can just imagine what's in my full-service junk drawer.
The only thing I plan to leave in Tiny Junk Drawer is the meat thermometer. It shall now be known as Meat Thermometer Drawer. At least until we want to save another critically important receipt. Or flower seeds.
So where do you keep all your super duper important things?
Stumble it!
17 Responses to "The Mini Junk Drawer"