About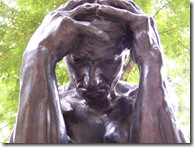 A little history …. I started this blog in July, 2007 as a place to publish a mix of things I like to write about: technical tips, language and linguistics, and humor stories. A handful of people liked my tech tips, but most readers preferred my humor pieces, so I shifted my focus there.
Humor writing is not where I started out, but it's where I landed and it's some of the most fun I've had in my life.
As long as I can remember, I wanted to be a writer. I earned a B.A. in Business Communications from DeSales University and worked for about two years doing freelance writing. I can write a killer press release. Seriously, they're so good, they would kill you.

Over the years I kept on writing, but only for myself or for close friends and family. I'd shoot emails around detailing bizarre or humorous things that happened to me in my day-to-day life. I'd get responses like "You need to publish this," or "Why aren't you writing for a living?"
I discovered blogs through a friend and thought what a perfect avenue it was for me to share my stuff, and so The Junk Drawer was born.

What's in The Drawer? Here you'll find stories about anything that amuses me, confuses me, or makes me blow a gasket. I complain a lot here, but that's a good thing!  Some of my regular readers consider a visit to The Junk Drawer cheap therapy.  You can always come here to unwind and unload.
Feel free to dig through the The Drawer and drop a comment if the mood strikes you. You have my guarantee — if you comment, I reply!
So pull up a mouse and get clickin'. If you're looking for a place to get started, try my Greatest Hits.
Contact Me: kathyblog07 [at] gmail.com
Photo: Andrieus d'Andres Vetu. Auguste Rodin, Musée Rodin, Paris.