Posted by Kathy on August 10th, 2013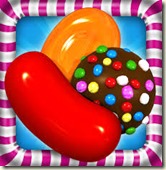 Thanks to my friend Sharron, I now have a name for the monkey on my back that's been strangling me the last few weeks.
That monkey is Candy Crush, or Facebook meth, as Sharron so bluntly and accurately referred to it. I'm happy to report I'm off it. Blocked. No more. Fin.
For all the articles I've read about how to beat the game levels, I think I've read just as many about how people kicked the habit and blocked it from their lives. So now this makes another one for the pile. Writing this post is the most productive thing I've done in a month.
So, how did I get here?
The Candy Crushers in my life warned me in earnest not to start. "Just don't," they said. "Learn from my mistake," they said. And for a while I was fine without it, had little interest. But then.
Like a child who's been warned not to touch a hot stove and burns themselves doing it anyway, I added it to my apps and was instantly hooked. Here is how that first hit got me to where I am today.
Candy Crush Your Hopes and Dreams lets you bank only 5 lives, with an automatic one life renewal every 30 minutes.
I remember emailing my sister and saying "That's ludicrous. Who would wait 30 min. for a life renewal? I can't play this thing. I'm out."
But I wasn't out because I'd already had a taste of the candy. And the candy was good. "Delicious! Sweet! Divine!"
You can get more lives by requesting them of other players, but how fast you get them is dependent on their availability and willingness to give lives.
No problem. I'll just request them of my husband's Facebook account. Log out of mine, into his, send the life, go back to my account, retrieve it and request another. Do this five times as fast as possible. Play those games, go get more.
I played morning, noon and night this way. It disgusts and embarrasses me to admit that I played Candy Crush Your Spirit for four hours a day, at least. All the while, professing that I wanted to get back to blogging. All the while saying I needed to stop. All the while, ignoring everything productive, save for my day job.
When I played during prime time hours, renewing lives was easier because many other Crushers were also playing. But as soon as I'd request and receive lives from them, I'd ask for more. And I thought "OMG. These people. These people know how bad I have it. I'm mortified. I need to stop. But can I have another life first?"
One person did start messaging me during my early morning sessions. He's in a later time zone than me, so sometimes when I'd be playing at 4AM my time, he'd pop up and say "Morning. My, you're playing early today." In my head, that sounded like Hal in 2001: A Space Odyssey.
Shame washed over me. He's watching, knowing I have a problem, but enabling me by dutifully sending me lives as soon as I request them. I didn't want him knowing I'd become such a slave to this beast, but he had the power to feed me lives. Lives that kept the hamster wheel turning.
As the weeks went on, things got worse. My husband Dave asked if I could work on his current maddening level. Now I'm playing my lives and his lives, requesting more from and to each account. Log in, log out, round and round we go.
I mention to my sister that I passed levels for Dave and now she asks if I can work her tough level, too. And so I do. I get her account information so I can log in and out to request and retrieve lives. I'm doing this for three accounts now. Mine, my husband's and my sister's.
I am in a very bad place.
It sickens me that I played three people's games today for almost 12 hours. Yes, 12 hours. I only stopped to eat and vacuum a little. I see two cats roaming around the house and remember Oh, I have cats, don't I? Hi, Lucky. Hi, Shadow. How've you been? Long time, no see.
Even though I was cross-eyed and catatonic at Hour 10, I pressed on. See, I'd been stuck at level 182, blowing through a couple hundred lives with no payoff. The addition of boosts would certainly help my game, but you have to pay for them."Don't ever pay for boosts," they said. "Don't give them real money. Just don't."
I considered myself "not that bad off," as long as I didn't pay for anything.
But.
But.
But.
Somehow I managed to achieve a near-win on Level 182. Only a single jelly remained on the board. Crush it and I win the level. I couldn't clear it with the existing candy alignment, but I could if I had a lollipop boost to smash it with.
Ignoring all warning and reason, I opened my wallet, clicked Purchase Boosts, filled in my credit card information and bought $10.62 worth of lollipops to finish a level that had just robbed me of most of my Saturday.
After I paid, I clicked the shiny new lollipop and smashed that last jelly to smithereens. I felt euphoric! Eat it, Level 182!
But my euphoria instantly turned to regret and depression. I had just wasted perfectly good disposable income on something that had taken over my life, something so useless, something that kept me from blogging, kept me from having a normal routine, a normal life.
I puttered around the kitchen a while, wringing my hands, knowing what I had to do.
I scooted up to the laptop again, clicked Account Settings, Blocking, Block Apps, and entered Candy Crush into the box.
Die Facebook Meth, die!
I wish I could get all those hours back, wish I'd put it toward blogging, wish I'd put it toward anything else. But I can't. It's gone.
A new day starts in 3, 2, 1……