Posted by Kathy on August 31st, 2012
This is the sort of thing you get for your birthday when you're watching your carbs and sweets.
You get a bacon-wrapped meatloaf cake and you love your husband for keeping you on the straight and narrow.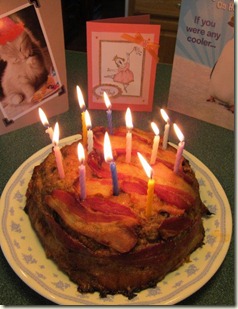 I'm back to the gym and losing all the weight I regained last year while I was nursing injuries to my knees. Down 7lbs so far. Go me!
As an aside, today my family got to make fun of me again for something I loudly proclaimed as a child when this day rolled around.
I'd run around screaming "My birthday's the laaaaaast day!"
For some reason, I thought it was a very special thing to have a birthday that landed at the end of a month.
As though millions of others weren't having the same birthday as me. My last day is really something! It's the LAST DAY, people!
My siblings would all roll their eyes and chime in with the month because you just can't go around sounding so stupid.
And so, for the last several decades, whenever it's my birthday, my family calls and leaves me messages: "My birthday's the laaaaaast day!!!! …….. OF AUGUST!"
And that is how my August 31st went and shall go forever more.
Thank you everyone for all the lovely Facebook birthday wishes. I did wind up getting cupcakes. I cheated, but not too much.
I'll take care of that on the elliptical tomorrow.
Have a great weekend, y'all!