Posted by Kathy on September 18th, 2011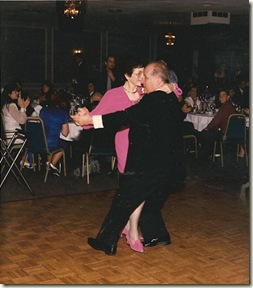 Today's post is in honor of my father, who passed away on Friday, September 16.
Some of you may know the stories I've written about him on Junk Drawer, many about the trials and tribulations getting Dad set up with his tech toys and Internet access. The man loved his tech toys!
What you might not know is that I credit Dad with having given me his sense of humor. He always had a joke in his back pocket, many I heard for only the first time during his brief hospitalization. He had a million of them.
He always had a quick wit, a lending hand for those in need, and a smile for friends and strangers alike.
Dad loved his music, most especially the polka. He and Mom spent many weekends in the 80s and 90s traveling the polka dance circuit, both locally and around the country.
They were expert dancers and I'm not just saying that. Other dancers would clear the floor when they stepped out, so they could sit on the sidelines and watch the beauty of the polka done right. (And yes, there are really wrong ways to do the polka, and it ain't pretty).
He loved our mother dearly. They celebrated their 65th wedding anniversary this past June. We were with him virtually round-the-clock in his last week, sharing his life stories, laughing loud and long. We yucked it up to his last day.
My father is responsible for my very first post to the Junk Drawer in 2007. I'd like to share it with you again. It's a very long post, and please don't laugh at how badly it's written. I was so green then.
Pour a cup of coffee, sit back and enjoy Adventures in Tech Support: When Your 82-Year-Old Father Wants to Be on the Bleeding Edge of Technology.
Love you, Dad.