Posted by Kathy on February 12th, 2016
Do I or don't I keep this blog breathing? Ugh.
Until I decide, I thought I'd toss up a progress picture of my weight loss effort these last 10 months. If I wasn't blogging much in that time, at least I was working hard to get less fat.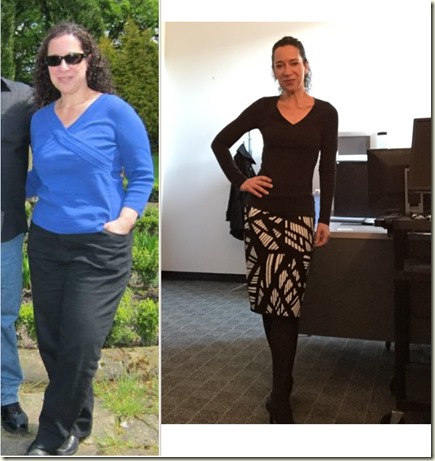 On the left, I was about 185lbs. Although I was delighted to be visiting my friends in England at the time the picture was taken, I was disgusted with my weight. I gained another ten pounds after that trip.
Then I got my act together, started counting calories, killing it with exercise and dropped 65lbs, where I'm at in the right photo, taken this week.
How'd I do it?
Mainly through stuffing a lot less food in my pie hole. I always knew I'd have to find a sustainable way to eat differently. To me, that means not cutting out anything I love, just eating less of it.
If I hit my 1,200 daily calorie budget, I stopped eating. I almost never ate back my exercise calories (200-300/day). Early on, I was just walking 2.5 miles a day (flat sidewalks, few inclines). That went on for 3-4 months before my M-F walking buddies and I decided we needed to challenge ourselves more.
For the next 3 months or so, we began walking up the hill of the campus where we work, taking about 1,600 steps in the process. After that stint, we started doing more and more steps and less and less straight walking. I also joined my sister Ann for even more steps on the weekends, many times 4,000 in a session. Killer, but very effective.
I also always did a 30-50 min cardio video every morning before work. In the last four months or so, with 100 min. of exercise a day, I had to bump up my calories to about 1,600-1,800.
I didn't lose much more weight recently, but I have totally reshaped my frame, my muscles and firmed up some pesky loose skin on my thighs, arms and stomach.
The exercise is so effective that I just moved down a size in my Lee jeans from 6 to 4. I haven't been a size 4 since the fifth grade. It's amazing what cardio and body weight exercise can do for you.
So that's it, kids! The process is simple, though not always easy. Yes, there are days when I don't want to put on my sneakers and sweat, or go out in the cold or rain to walk/step, but I do it because it works and it's sustainable.
I'm exactly where I want to be.
Oh! And I had the bracelet custom-made for me with my total weight loss imprinted on it (a few pounds to go yet, but I'll get there). Looking at the bracelet every day reminds me of my accomplishments and also keeps me on the straight and narrow for the future.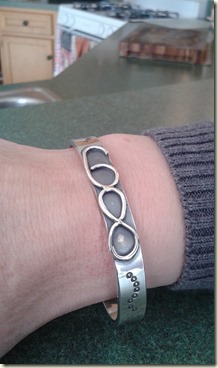 If you're like me, over 50 and want to lose weight, don't let age deter you. I lost at the same rate at this age as I did when I dieted in my 20s. Count calories, it works. I use My Fitness Pal (both a website and an app) to enter everything I eat and all my exercise. If you dig charts, graphs and trends, it's the tool for you!
You don't even need to exercise. Remember, weight loss begins in the kitchen. Fitness begins at the gym.
If you're feeling fat and want to change, know that it's possible to transform yourself even if you're older. And you can ask me anything. I'm happy to help you if I can!