Posted by Kathy on June 1st, 2014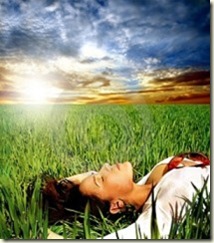 I had no intention of walking ten miles today, I really didn't. In fact, when I went to bed last night, it was with such a creaky body I figured I would spend all of today on the couch. Instead, I woke up feeling like my whole body had been replaced with one that actually works.
When that happens, you take every advantage of it, especially since I've suffered from some recurring, frustrating knee pain lately. Pain that's kept me from doing any kind of meaningful exercise. Since I had zero pain today, I set out to do one or two miles. Which turned into four, which turned into six and then eight and then a glorious ten!
Now I'm not gonna lie. It wasn't without its pains. While I was delighted the knees felt amazing for all ten miles, I can't say as much for my hips. I took breaks along the way, stopping back home twice to hydrate, stretch and sit a bit.
Back out on the circuit, during mile eight, I needed to stretch and relax some more. I sat under a tree for five minutes with a shit-eating grin on my face. I just couldn't believe I was doing this. Ten miles ain't nothin' to sneeze at and I was feeling kind of awesome.
But the last two miles had something to say about that. Around mile 9, I had to park my butt on a curb and engage in a total body stretch, which is really something that ought to take place in the privacy of your own home. I decided to ignore how this probably looked to people driving by.
After I was done contorting myself on the curb, I decided to take a rare opportunity to lay back on some cool, luxurious grass and simply watch the clouds roll by. Suddenly, I was five years old again and enjoyed the blissful downtime, stopping to think, to daydream and just chill, all with a welcome breeze passing over me.
Lying there, with a relaxed body and mind, I shut my eyes and listened to my jams on my iPod. I got into a nice little zen state and I didn't move a muscle. I probably could have fallen asleep there.
Until.
Until my zoned out space was abruptly interrupted by a neighbor woman calling out to me over and over "Ma'am? Ma'am? Are you OK?" I hadn't heard her at first because of the music in my ears. But when I did, I opened my eyes to a worried-looking woman a few feet away.
"You weren't moving. I thought maybe something was wrong," she said. And by "wrong," I think she meant "dead."
So, word of advice. If you're going to be a weekend warrior and need to park yourself in the middle of someone's lawn, move a body part every now and then because you kind of look like a corpse otherwise.
Death tends to frighten people.