Posted by Kathy on September 16th, 2015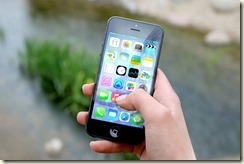 Every day at lunch, I take a 2.5 mile walk through campus at the university where I work.
It's especially hectic right at the Noon hour when classes let out and students spill out from every building and converge on every square inch of sidewalks, streets and walkways.
Often, I'm battling trying to either pass slow walkers or not get run over by students, heads bowed and oblivious, reading their smartphones.
Ugh. Smartphone walkers. They're the worst!
Today I noticed one student in particular who was walking along a pathway, reading from a very different kind of device. So cool!
You can hold it in one hand or two. In his case, he was slowly walking with it in his left hand.
The device opens fairly flatish and his was medium-sized, on the order of an iPad.
He walked along reading it and then when he needed to advance through the material, he swiped his right hand along the right half of the device and part of it physically moved! Came right up off the device and covered the material on the left side.
It was amazing. It didn't appear to need batteries and he didn't connect ear buds to it.
He just keep reading it and turning it and enjoying it. It didn't make a sound. Didn't ring. Didn't beep.
It just displayed non-illuminated words permanently affixed to what I assume to be paper.
That's right. This student was actually reading a good, old-fashioned book and it made my heart sing.
Thank you, random student, for reminding the world that some things can still be engrossing, yet not one bit digital.
How refreshing!