Posted by Kathy on March 26th, 2014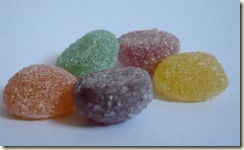 BETHLEHEM, PA – A local woman found a smashed doughnut-shaped sugared jelly candy on the floor of her office that she claims she never purchased.
Kathy Frederick, 48, of Bethlehem, PA discovered the candy while pushing her chair away from her desk and standing up.
"I was like OMG, that's not my candy," she said. "I never eat those. They stick in your teeth. Where did this come from?"
Frederick, a computing consultant at Lehigh University, said she often takes candy from her supervisor's candy dish, but reported that sugared jelly is not among the selections.
"I have no idea why this is here," she said. "And it's thick, so it's not like it could have stuck to the bottom of my shoe and come in from the outside."
Frederick considered contacting the Campus Police because she thought surely someone had gained unauthorized access to her office when she wasn't present.
She suspected briefly that someone must have enjoyed their candy in the comfort of her office, where this morning she rolled over it with her chair and flattened it.
"It's really gross now," she said.
After considering the presence of the candy from every conceivable angle, she ultimately picked it up and threw it into a nearby trash bin.
"This will probably bug me for at least an hour," Frederick said. "Huh."
Frederick later returned to her regular candy-eating routine, enjoying several Reese's minis, York Peppermint Patties and caramel creams with her afternoon coffee.