Posted by Kathy on April 11th, 2014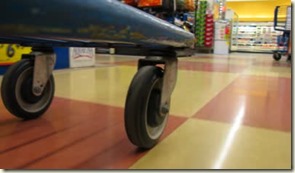 It's always something with me.
I went to Wegmans after work today for some grocery shopping. Grabbed one of those two-tiered shopping carts that are smaller than a regular cart, but bigger than a hand basket.
I got about 10 feet from the cart corral before realizing I had an unbelievably loud and annoying "crazy wheel" in the front. You know, the one that does whatever it wants, when it wants.
The bad seed.
Because I always think I can somehow jerk it back into a normal wheel position and make it behave, I kept using the cart – pushing harder, making zig zag turns, cursing at it – but nothing worked and now I was so far from the corral.
Too late to go back and get a normal cart. I'll just deal with this. But how can I make this thing quieter? Honestly, I sounded like a car crash, screeching metal on metal, so loud everyone turned around to look and get out of my way.
I quickly decided that if the crazy wheel didn't actually touch the floor, it couldn't make any noise.
So I basically popped a wheelie with the cart and drove it down each aisle on its hind wheels.
No, this didn't look goofy at all.
Toothpaste. Put the cart down. Pop a wheelie. Move along.
Tissues. Put the cart down. Pop a wheelie. Move along.
Coffee creamer. Put the cart down. Pop a wheelie. Move along.
No, not goofy at all.
My wheelie shopping was a success until I collected too many things that I couldn't pop wheelies anymore.
So I went back to screeching and having a perpetual car accident all the way through the rest of the store, paid for my stuff and got the hell outta there.
My advice? Just take the damn thing back and get another one because you can't win with a screwy wheel. Not even if you drive it on two good wheels and do all your shopping like it's the first time you've ever seen a shopping cart and don't know how to use it.